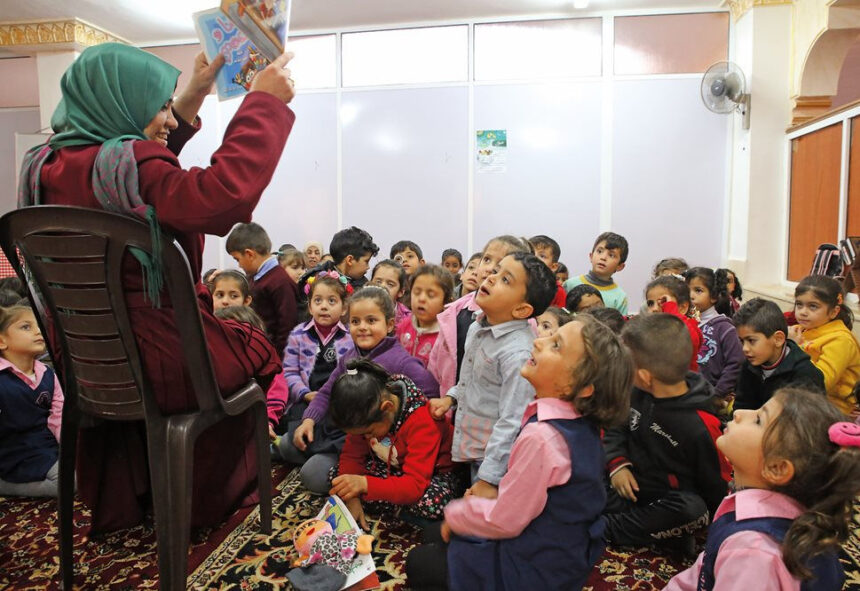 "We Love Reading" (WLR) is a community-based read-aloud programme designed to kindle the passion for books and book reading amongst young children.
It was founded February 2006 by Rana Dajani, a Jordanian university professor who wanted to address what she perceived as gap in children's reading habits in Jordan where, despite a national 98% literacy rate, public libraries were thin on the ground and didn't offer specific activities for children, who read for educational and religious purposes rather than for joy or entertainment – unlike what her own four children had experienced in the U.S, where she had lived for five years with her family while pursuing her PhD in molecular cell biology in the University of Iowa as a Fulbright Foreign Student.
Her endeavour started as a family project, with Rana and her three daughters selecting books and taking turns at reading them to children on Saturday afternoons in a local mosque, and subsequently recruiting and training volunteers to become "WLR Ambassadors". Fifteen years later, WLR has expanded to another 60 countries – in most of the Middle East but also throughout Asia, Africa, Europe and the Americas – where 4,370 WLR ambassadors and approximately 7,500 trainees had led some 152,300 reading sessions for more than 447,000 children worldwide[1] and exchange books with them in over 4,400 libraries.
A recent AramcoWorld magazine article quotes Rana Dajani on one of her primary goals for setting up WLR: "Early-childhood-development research underscores the impact reading has on brain development as well as on social skills, especially if it is introduced before the age of 10".
Stimulating reading habits does indeed seem to have a more significant impact on younger children and specially those from lower income families, according to a recently published research paper.
WLR is also proving particularly helpful in refugee camps, helping traumatised children cope with anxiety and anger. Quoted in the same AramcoWorld magazine article, Majd Qasha'm, a Syrian refugee who, along with her husband, became a WLR ambassador in the Azraq Refugee Camp in Jordan, says children seem happier and less anxious after hearing hearing stories whose characters overcome fear or physical disabilities, and believes the reading sessions have a positive influence in their psychological well-being.
The CoViD-19 pandemic triggered further initiatives: after it struck one year ago, WLR started to offer free trainings online in Arabic and English, to post read-aloud sessions on YouTube and to share stories from ambassadors on Facebook and Twitter.
A perhaps less anticipated but equally valuable outcome is WLR's impact on the role of women. As WLR ambassadors they are trained to train others in their communities, and when they notice the impact on their children they become more confident in their abilities and feel empowered to do more.
What better way to live up  to the WLR motto: "Changing mindsets through reading to create changemakers"?
[1] 2019 figures.